"Last Night at the Telegraph Club" by Malinda Lo: A Review
by Savannah Winkler, Library Assistant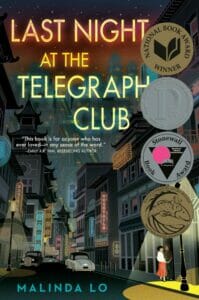 In the opening pages of "Last Night at the Telegraph Club," 17-year-old Lily Hu's life is suddenly changed by a newspaper advertisement. The year is 1954, and Lily lives in San Francisco's Chinatown with her family. The ad promotes a male impersonator named Tommy Andrews and her performances at the local Telegraph Club. Lily quickly hides the ad, and it becomes her secret, but it isn't her only one. On trips to the pharmacy, she flips through pages of pulp romance novels, particularly one about two women. As she begins to understand her sexuality, Lily becomes even more determined to hide her growing feelings—that is, until fellow classmate Kath Miller discovers her secret. But instead of the shame and humiliation she was anticipating, Lily realizes Kath may share her feelings.
As their friendship grows, Kath and Lily sneak out and visit the Telegraph Club. They meet women who openly flirt with one another and share kisses in the club's shadows. They watch Tommy Andrews's electrifying performance, and Lily is captivated by her. But Tommy isn't the only person Lily crushes on. Lily's feelings for Kath grow into love, but outside forces continue to complicate their relationship. McCarthyism and the fear of communism threatens the livelihoods of Chinese-Americans. When her father's citizenship papers are taken by the FBI, Lily realizes her actions affect not just her, but her entire family. She faces an impossible choice: her family or being true to herself.
Malinda Lo's book has become one of my favorite historical fiction novels. I will never get to truly experience 1950s San Francisco, but while reading this book, I felt like I stood under the glow of the neon signs and smelled the smoke inside the club. This book provides the opportunity to learn more about LGBTQ+ history, including lesbian clubs and male impersonators (better known today as drag kings). A timeline of real historical events that coincide with the book's happenings is included throughout the chapters. The amount of historical detail brings the book alive.
I enjoyed the historical setting, but the characters are truly what make the story. The romance between Lily and Kath is tender and honest. Readers easily root for them, and I found myself unable to stop reading because I needed to know if their relationship survived. I often hesitated while turning the pages and became increasingly nervous about the fallout if their relationship was discovered. "Telegraph Club" is a realistic novel, and it does not gloss over the discrimination that gay and lesbian couples faced in the 1950s. Despite this, Lo's story remains unwaveringly hopeful.
This past March, Lo gave a talk to K-State affiliates and community members over Zoom. During her presentation, she explained her motivation behind writing this story. She wanted to bring people—specifically gay Chinese-Americans—out from the shadows and into the spotlight. These Americans were forced to live in secrecy for so long, and their stories were at risk of being lost forever. Authors like Malinda Lo have thankfully assured that will not happen. Without question, "Last Night at the Telegraph Club" succeeds at giving a voice to those who were once voiceless.
"Last Night at the Telegraph Club" is a great read for those who enjoy young adult literature, historical fiction, or romance. The novel has been widely recognized, winning the Stonewall Award, the Asian/Pacific American Award for Youth Literature, and the National Book Award for Young People's Literature. Lo has authored numerous other YA books, including the thriller "A Line in the Dark" and the fantasy "Ash."
June is Pride Month, and the library will have numerous displays highlighting LGTBQ+ voices. If you can't stop by in person or are looking for more recommendations, check out the booklists featured on our catalog page.