New YA by Debut Authors
By Savannah Winkler, LIS Library Assistant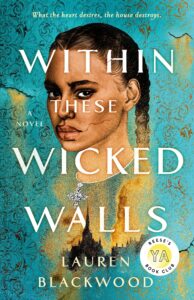 My life would be very different without young adult books. Starting in seventh grade, the stories I found in the teen area of my hometown public library shaped the remaining years of my childhood. From my cozy spot in the library's bean bag chairs, I faced danger and made impossible choices with Katniss in "The Hunger Games" and learned about first loves with Hazel and Gus from "The Fault in Our Stars." YA has changed significantly since then, and, despite being a handful of years into adulthood, I still find myself gravitating towards the new and inventive stories that current YA titles have to offer. Luckily, this year has brought us some fresh and exciting titles by debut authors.
Lauren Blackwood's debut novel, "Within These Wicked Walls," adds a fantastically gothic and Ethiopian-inspired twist to the classic story of "Jane Eyre." Andromeda works as a debtera, a kind of exorcist responsible for cleansing houses of curses or malevolent energy. Faced with uncertainty and poverty, Andromeda does not hesitate when the privileged Magnus Rochester offers her a job. However, once she arrives at Thorne Manor, Andromeda soon realizes something even more sinister is lurking inside this lavish desert castle. Andromeda knows she should run, but her growing feelings for Magnus keep her from leaving while she still has the chance.
"Fifteen Hundred Miles from the Sun" by Jonny Garza Villa tells a more light-hearted story, but that doesn't mean life is easy for protagonist Jules Luna. Jules wants nothing more than to get away from Corpus Christi, Texas, and the disapproving looks of those around him—especially his father. Jules plans to lay low and focus on getting into college, but one impulsive post on Twitter changes everything and reveals his secret to the world: he is gay. Jules must suddenly face the rejection and hurt he's always feared, but he discovers he isn't alone. Mat, an online crush from Los Angeles, reaches out to Jules when he needs it most. With the help of Mat and friends, Jules learns how live his life authentically and without reservations.
One of my most anticipated additions to the horror genre this year was Courtney Gould's "The Dead and the Dark." The lives of the two main characters, Logan and Ashley, could not be more different. Logan has traveled the country and chased ghosts with her dads as they host their popular paranormal TV show, "Paraspectors." Ashley, on the other hand, has never known a world outside of her safe and predictable home in Snakebite, Oregon. Despite their differences, their lives intertwine when Logan's dads decide to return to their hometown of Snakebite, but what is meant to be a short trip turns into an extended stay as young people begin to disappear and the town's hidden secrets are slowly revealed.
On the back cover of "Not Here to Be Liked" by Michelle Quach, the book gives its readers a warning: this book contains an unlikable female character. High school junior Eliza Quan has never been concerned with her likability. She's too busy turning out articles for her school's newspaper and preparing for the upcoming election for editor in chief. Eliza assumes she is a shoo-in, until the charismatic but less-qualified Len DiMartile is elected instead. Eliza pours her frustrations into an essay that is meant only for herself, but when that essay is published online, she finds herself at the forefront of a feminist movement she never intended to start.
The library's ReadMHK program continues this month with the topic new and shiny books. If you enjoy discovering new books or are looking to get some new titles for your "To Read" list, consider checking out our librarian-curated book lists on our website.