YA Books about Civil Rights
by Savannah Winkler, Public Services Supervisor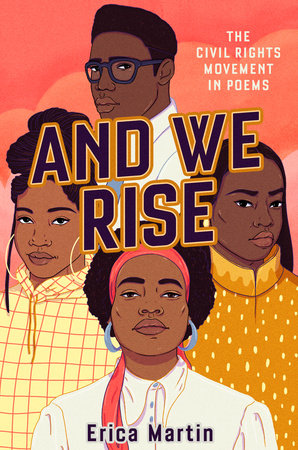 A new month means a new topic for Manhattan Public Library's ReadMHK program. Our reading program is over halfway through its second year, and our community has gathered to discuss fourteen topics since the fall of 2021. February's topic is civil rights. Civil rights are an integral part of history in the United States and across the world. No matter what decade or century you look to, there have always been people fighting to make their voices heard and enact change. My personal favorite section in the library, the Young Adult collection, has many books that recount civil rights issues and movements in U.S. history.
The civil rights movement monumentally changed the United States and the rights of Black Americans and other people of color. "And We Rise: The Civil Rights Movement in Poems" by Erica Martin guides readers through key events, starting in the late 1800s with Jim Crow laws. "And We Rise" incorporates poems, historical photographs and quotes from civil rights leaders. The civil rights movement comes alive through Martin's powerful poetry and the real-life images of those who fought for their freedoms.
Movements are successful because of the work done by large groups of people, but their leaders are also important. Civil rights leaders such as Martin Luther King Jr and Rosa Parks sparked change and motivated others to act. Malcolm X was another key leader during the 1950-1960s. Malcolm was assassinated in 1965, and his daughter, Ilyasah Shabazz, has continued to tell his story. Shabazz recounts the time her father spent in a Charlestown prison in her novel "The Awakening of Malcolm X," co-written with Tiffany D. Jackson. Still in his adolescence, Malcolm struggles with the uncertainty of his future and the injustices around him. But through books, his debate team and religion, Malcolm soon transforms into an influential leader.
The 1950-1960s civil rights movement was not the only effort occurring during those years. "Stonewall Riots: Coming Out in the Streets" by Gayle Pitman explores the history behind the LGBTQ+ rights movement. This book focuses on the Stonewall Riots, which occurred as a result of a police raid and subsequent violence at the Stonewall Inn. Pitman also details the events leading up to Stonewall and what it was like to be a gay American in the late 1800s and early 1900s. Photographs, objects and witness testimonies are included throughout the book, including an interview with a woman who was ten at the time.
The young readers' edition of "The Heartbeat of Wounded Knee: Life in Native America" by David Treuer and Sheila Keenan explores the resilience of Native Americans. Truer, who is Ojibwe from the Leech Lake Reservation, chronicles many historical events that impacted the indigenous people of America, such as the 1890 massacre at Wounded Knee Creek. Treuer also recounts recent movements, including the 2016 Dakota Access pipeline protests. Readers will discover that Native American cultures and people have always persisted and still exist today despite relentless discrimination.
If you prefer historical fiction rather than nonfiction, then you may be interested in "We Are Not Free" by Traci Chee. Chee's novel takes place in World War II-era San Francisco and follows fourteen young Nisei, or second-generation Japanese American citizens. The teens' lives are forever changed when the U.S. government relocates over 100,000 Japanese citizens to incarceration camps. The interconnected stories depict the harsh realities of relocation and the camps. In order to overcome these injustices, the group of friends must remember the bonds that hold them together.
If this topic interests you, consider joining us for our Read-In: Black Authors event on February 23, 7-8 p.m. in the library's auditorium. Listeners and participants are welcome. Anyone can participate and bring an excerpt to read aloud or perform a favorite book, poem, song, dance, art, recorded music or video. Presented works must be by Black authors and artists. If you're interested in presenting, please contact the library or register at manhattanks.librarycalendar.com.