Books about Bicycling
by Crystal Hicks, Collection Services Manager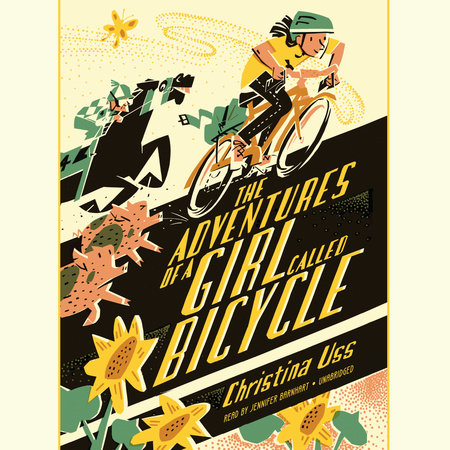 As the weather slowly warms up, my thoughts turn inexorably towards biking. You might've seen my family biking around town—my husband's bike looks like it was crossed with a wheelbarrow, and our toddler rides contentedly in front. We splurged on our electric bikes last spring, and they've brought us all the joy and none of the pain of bicycling. Now that I'm back into biking, it's almost my favorite activity—second, of course, to reading books. Fortunately, the Manhattan Public Library has books about biking, so I can pursue both interests simultaneously.
It seems best to start with the books most useful for bicycling: repair manuals.  DK's "The Complete Bike Owner's Manual" uses DK's signature image-heavy style to walk readers through basic maintenance and repair, like fixing a flat tire. For a more thorough look at bicycle maintenance, check out "The 'Bicycling' Guide to Complete Bicycle Maintenance and Repair for Road and Mountain Bikes" by Todd Downs. Downs goes beyond the basics, with tips for adjusting seat position, chain repair, and more. Both books cover a variety of bicycles, so most riders should find them useful.
Jody Rosen, who commutes by bike in New York City, combines bicycle history with memoir in "Two Wheels Good." Bicycles are a revolutionary force, both loved and hated in equal measure. Rosen explores how the bicycle, which should be considered antiquated, endures through its simplicity and versatility and is currently enjoying its biggest boom yet. For a more specific look at the history of bicycles on American roads, check out James Longhurst's "Bike Battles."
The library also has books on cycling history in our children's collection. Lesa Cline-Ransome and James E. Ransome's "Major Taylor, Champion Cyclist" brings to life the story of Marshall Taylor, a Black cyclist who raced from 1896 to 1909. Warm oil paintings depict Taylor's journey, from trick riding through his professional debut to his 1901 win against Edmond Jacquelin. Allan Drummond's "Pedal Power" turns to Europe, showcasing how Amsterdam became the bicycle capital of the world following a grassroots push. In the early 1970s, Amsterdam teemed with both cars and bicycles, making the roads unsafe. After public outcry over the number of deaths from accidents, Amsterdam decided to prioritize bicycles over cars, creating a city where bicycling is the norm.
For children who prefer fiction, there are a few books that center on cycling. Christina Uss's "The Adventures of a Girl Called Bicycle" follows Bicycle, a quiet girl who was taken in by the Mostly Silent Monastery and named after the bicycle shirt she was wearing. When Sister Wanda decides Bicycle needs to make friends, Bicycle pedals off across the United States instead, heading for the San Francisco Blessing of the Bicycles to meet her cycling idol. In "Sarai and the Around the World Fair," by Sarai Gonzalez and Monica Brown, Sarai comes to a crossroads when she outgrows her first bike. Her Tata offers to patch up an old bike for her, but will it turn out like the new bike she dreams of? In Haifaa Al Mansour's "The Green Bicycle," ten-year-old Wadjda longs to ride a bike like her friend Abdullah, but it's frowned upon in Saudi Arabia. Despite the obstacles in her way, Wadjda enacts a plan to earn enough money to buy the bike for herself.
Picture books can also help generate excitement in kids new to biking or making the transition from a tricycle to a bicycle. Elizabeth Verdick and Brian Bigg's "Bike and Trike" features a rivalry between trusty-old Trike and shiny-new Bike. When they race to determine the Winner on Wheels, they discover that they both have their purpose and do their best work together. In "Together We Ride," by Valerie Bolling and Kaylani Juanita, a young girl learns how to ride a bicycle under her father's careful guidance. Though she falls at first, slowly she gets the hang of it, and the book ends with a joyful bike ride with the whole family. "Biking with Grandma," by Chris Santella and Vivienne To, follows Grandma Rose and Sam as they bike across the world, visiting national parks and more. Told via postcards to Sam's parents and accompanying images, this book will make anyone itch to jump on a bike and get traveling.
Whatever your mode of conveyance, I hope you stop by Manhattan Public Library to check out some books, or visit us online at www.MHKLibrary.org. We've got plenty of books to satisfy every reader, whatever you may be looking for.