Falling into Magical Colors
By Stephanie Wallace, Library Assistant 2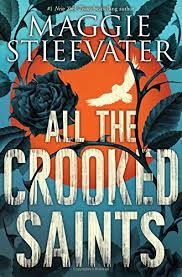 Nights are officially growing longer, shadows are creeping farther, and a chill is rising on the back of your neck when you leave your car these days. Maybe it's just leaves scuttling over the sidewalk or branches creaking in the wind, but our minds are telling us there are secrets waiting for us to discover them. Touches of magic that alight our imaginations and our fears, hoping to surprise us.
If you're looking for titles that make you want to look twice at where you live, consider taking a peek at these books. They combine contemporary fantasy with mysteries rooted in diverse cultures to transform familiar locales into magical worlds.
Let's start with "Shadowshaper" by Daniel José Older, which introduces us to Sierra Santiago, a Brooklyn native with a Puerto Rican family. She's been painting a mural of a dragon on an abandoned construction project when tragedy strikes her family, and soon all of the murals in the city are starting to cry or fade away. It becomes up to her find out why, learn how to use the power her family carries, and stop the person responsible before the spirits of her neighborhood are lost forever.
"Pet" by Akwaeke Emezi is a story set in a near-future, utopian city called Lucille, where angels have eradicated all evils and monsters from the world. At least, that is what Jam thought. She's a Black transgender girl who accidentally summons a creature made of horns and colors and claws. This creature, Pet emerges from one of her mother's paintings and a drop of Jam's blood, and has come with a goal – to hunt a monster hiding somewhere in her best friend, Redemption's house.
In Maggie Stiefvater's "All the Crooked Saints," magic also runs in the Soria family, who came from Mexico to Bicho Raro, Colorado to perform miracles. Pilgrims travel from all parts of the country to ask the Saint of Bicho Raro to fix their lives, but miracles are a tricky business, and few are prepared for the cost it takes. Owls and current pilgrims who have yet to solve the riddle of their miracles haunt the ranch. When Daniel ends up in trouble trying to help one pilgrim in particular, it is up to his cousins Beatriz and Joaquin to learn how to work with the pilgrims to save themselves from their own inner darkness.
Twelve-year-old Sunny is also wishing for a miracle in "Akata Witch" by Nnedi Okorafor. She was born in America, but lives in Nigeria. She wants to play soccer and fit in with her peers, but her albinism makes her burn terribly in the sun. It's only after a power outage that she discovers an incredible secret – she's one of the Leopard People, a person with magical powers. Soon she's called to join other students in magic, and when a serial killer goes on the hunt, Sunny and her friends are put to the test to stop him.
In each of these stories, a diverse cast must learn about their family's roots in order to fight the darkness encroaching in their worlds. Sierra embraces the power of being a Shadowshaper, Jam unburies secrets with Pet, the Soria family works together with the pilgrims, and Sunny makes a new family with the Leopard People. Magic is woven throughout their lives, protected from outsiders who don't understand. The fantasy elements in these stories can be viewed as metaphors or enjoyed as they stand. Either way, every one of these titles is sure to make you look twice at everything there is to be enjoyed this fall.
For more book recommendations, please contact Manhattan Public Library at 785-776-4741 ext. 200 or refstaff@mhklibrary.org. If you'd like personalized book recommendations, please fill out a request for a personalized reading list at https://mhklibrary.org/personalized-reading-list-2/.