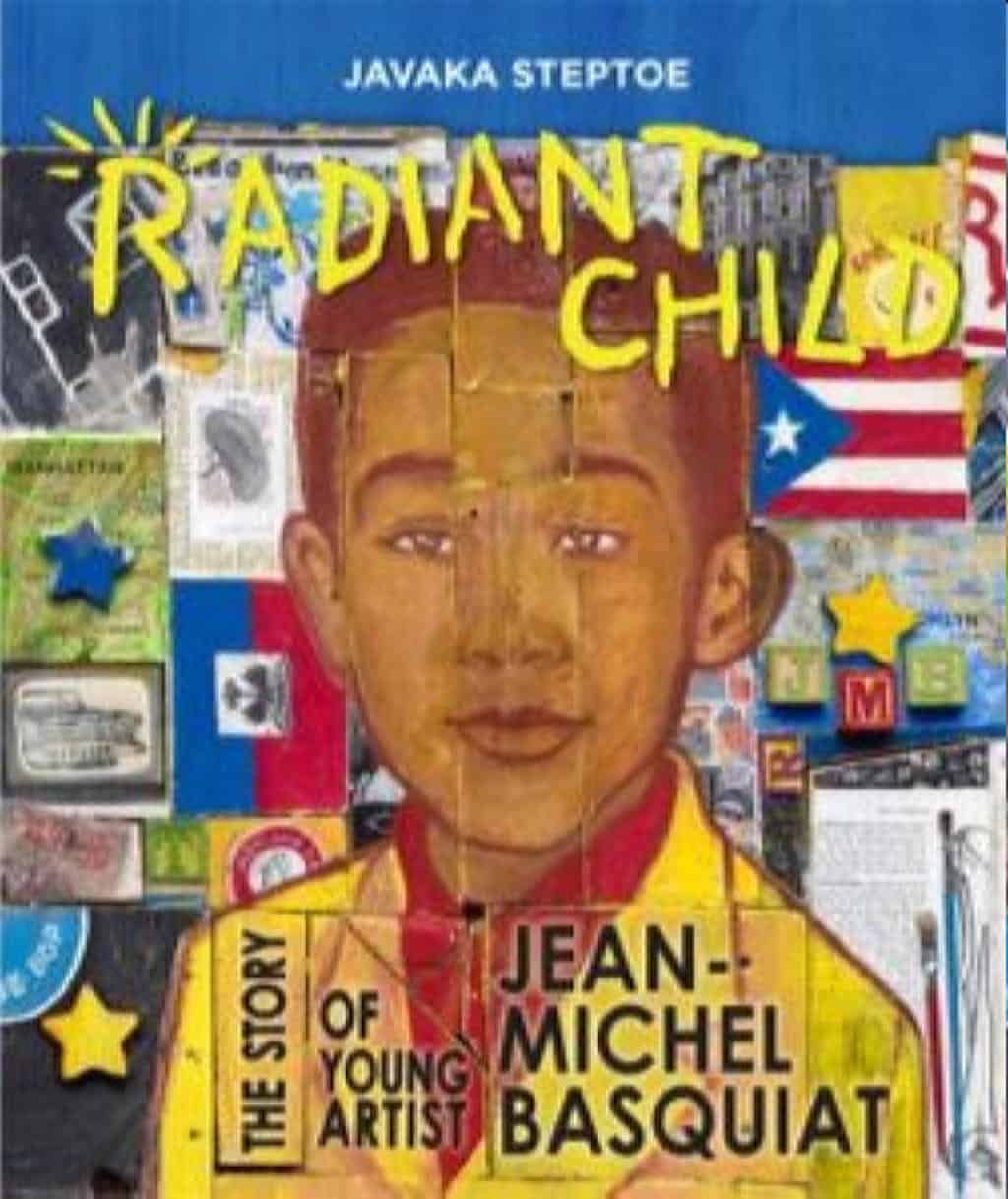 Amazing Artists Inspire Kids to Express Themselves
By Jennifer Bergen, Youth Services Manager
If you have a young artist in your house, you likely have a refrigerator or wall packed with drawings, paintings, cartoons or 3-D art. One of my favorite office decorations is a colorful page of scribbles made by my youngest son in preschool. The circles and lines in blue, orange, brown, green and lavender fill the entire page. It is entitled "Cow." What a fascinating and surprising creature the cow must have been to him at that time.
Artists' personal stories can be an inspiration for kids, encouraging them to express themselves and create art in their own way. They describe challenges the artists had to overcome to pursue art and stay true to themselves. The Arts & Crafts Neighborhood in the Children's Room includes treasures like Radiant Child: The Story of Young Artist Jean-Michel Basquiat, which won this year's Caldecott Medal and the Coretta Scott King Award, and recently added picture book biographies for Jacob Lawrence, Ansel Adams, and Disney artist Mary Blair. Here are a few more new titles to check out:
Dorothea's Eyes by Barb Rosenstock and illustrated by Gerard DuBois begins with Dorothea Lange's childhood, describing her struggles with polio and poverty and feeling "invisible." That doesn't stand in the way of her desire to be a photographer. Dorothea "sees with her eyes and her heart," Rosenstock explains. She loves examining faces, and her persistence leads her to a lucrative portrait photography career.  When the depression hits, Dorothea's heart calls her out of the comfortable studio and on to the road, capturing the faces of the poor and downtrodden, and using her work to powerfully tell their unheard stories. A double page spread at the end shows six of Lange's famous photographs. Many readers will be hungry for more of the intensely emotion-filled black and white photographs, which may lead them to Migrant Mother by Don Nardo, or one of the many books in our adult nonfiction collection.
This year, the Vietnam Memorial commemorates its 35th year, sparking new books about the artist behind the wall.  Maya Lin: Artist-Architect of Light and Lines by Jeanne Harvey tells the story of young Maya who, while in college, entered the Vietnam Memorial design contest, and won. Her vision created one of the most powerful symbols of our nation, honoring 58,000 military service members who served in the war. Another upcoming biography by Susan Goldman Rubin, Maya Lin: Thinking with her Hands, provides more on the topic, including the controversies surrounding Lin's design and how she was able to stay true to her vision.
Keith Haring: The Boy Who Just Kept Drawing, written by the late Keith Haring's sister, Kay Haring, describes the strong drive Keith had to make art anywhere and anytime. He started as a doodler, and often made pictures on walls or things on which he was not supposed to draw. This continued as he grew popular in New York City, and Keith often gave his pieces away or used them to raise money for charities. Kids who have been told to stop doodling on their class assignments will take joy in Keith's response to those who questioned or dismissed his art. He barely had time to hear it, and was usually already on to his next creation. His words to young people are important and true: "Draw anything. Whatever you want. No one can say it's bad or good. It's yours."
For an up-close, hands-on artistic treat, visit the Grafico Movil in the library parking lot on October 8 and 9.  Kids and adults can experience art with this "mural, gallery, printmaking studio and movie theater on wheels."  The decked-out 1947 Chevy delivery truck created by Artemio Rodriguez is covered in highly detailed black-and-white art. Thanks to the Beach Museum for sharing this piece of their exhibit at the library.  You never know when a certain story or song or art form will resonate with a child, or where that inspiration may take them.