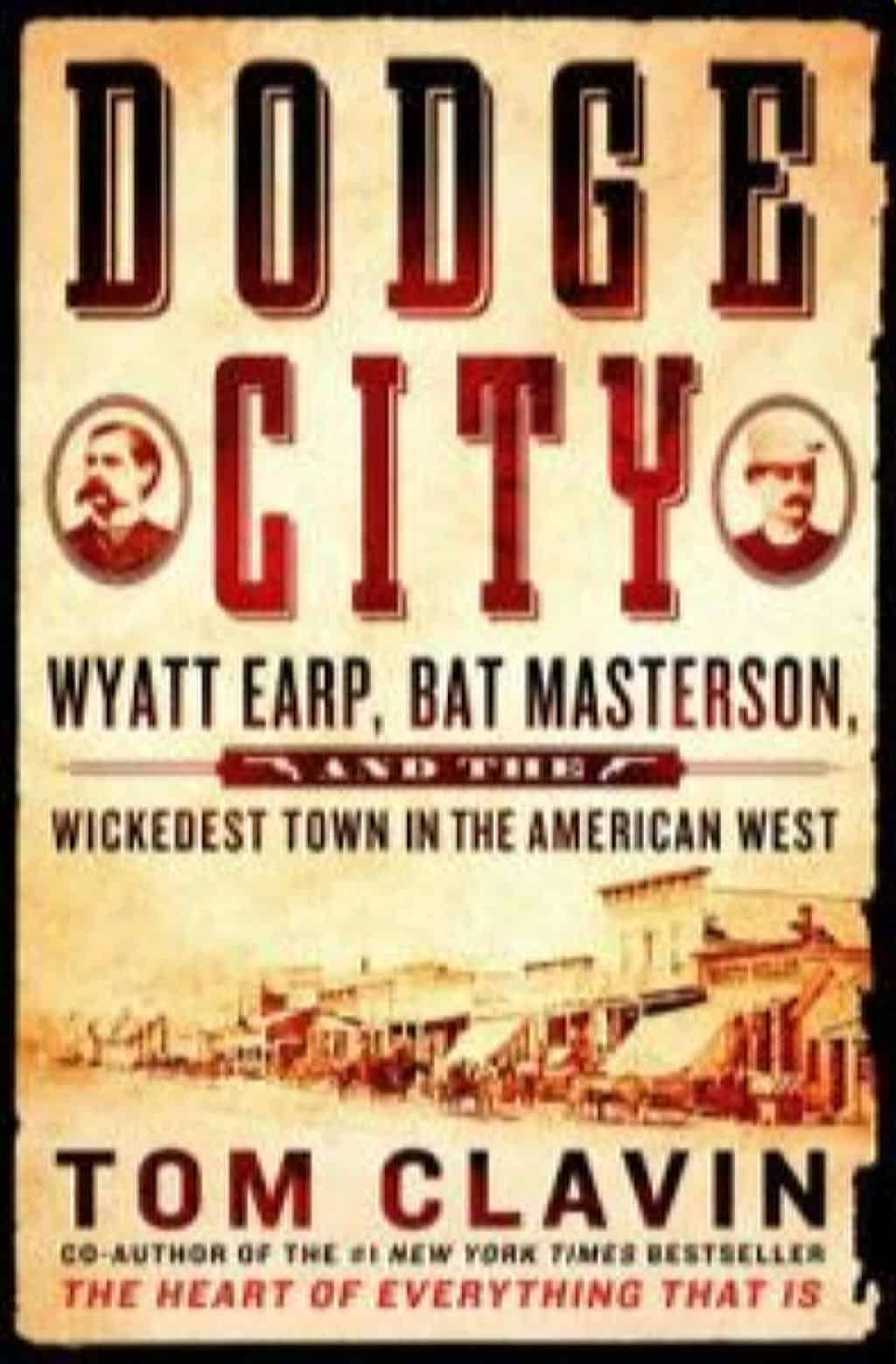 Dodge City at Its Wildest
By Marcia Allen, Technical Services and Collections Manager
Tom Clavin's latest nonfiction book, Dodge City: Wyatt Earp, Bat Masterton, and the Wickedest Town in the American West, has appeal on multiple levels.  It's a thrilling western, with all of the shootouts, heroes, and villains you'll find in well-written fiction.  It's also an almost unbelievable tale of actual historical events that helped shape the West.  And it's a remarkable window on our Kansas heritage.
The story takes place in the 1870s.  For many years, the cattle drives from Texas had used Dodge City (among other Kansas towns) as a final stopping point for the herds.  After long hours on dusty trails, the newly paid cowboys were ready for a celebration that usually involved quite a bit of drinking and some unplanned gunplay.  And the building of the rail lines, with Dodge City as a connecting point between cattle herds and a shipping hub, spurred rapid growth.  Buffalo hunters also frequently visited the town, and they, too, took part in the celebrations. Fairly quickly, Dodge became a rough and violent town with several drinking establishments and a profitable trade in prostitution.   In fact, census records indicate that, at one time, there were nearly 50 prostitutes in a town with a population of only about 700.
It was also something of a magnet for criminals looking for quick money.  Characters like Dynamite Sam and Dirty Sock Jack were known for their unpredictable behavior, and it was up to the newly hired law enforcement to control such threats.  And that's when Wyatt Earp and Bat Masterson came into the picture.
Wyatt was drawn to Dodge City because a brother and a sister-in-law had already set up a successful brothel, a business that was not illegal as long as it was kept under control.  Wyatt was attracted by the salary and had some experience in law enforcement in Wichita.  Bat had had enough of buffalo hunting and skirmishes with Native Americans, and he'd nearly been killed in a saloon shootout that left him disabled for some time, so he needed a change in location.
Neither of the young men was particularly frightened by the new responsibilities.  In an early encounter with unruly cowboys ready to celebrate the end of the trail with guns blazing, Wyatt singled out the major troublemaker and punched him twice before the man could pull a gun.  The now-unconscious cowboy was an immediate deterrent for his friends.  Bat, too, had a lack of patience toward crime.  Upon learning that robber Robert Dirty Dave and his followers had been spotted near Dodge, Bat formed a posse and braved blizzard conditions to arrest them and send them to trial.  Bat also served as a partner in the Lone Star Dance Hall and Saloon, so he was making a decent living.
One the factors in the tremendous appeal of this book is author Clavin's ability to tell a good story.   He not only alludes to events in Dodge, but he also supplies ample background.  We learn, for example, that the only woman buried on Boot Hill was a woman named Alice Chambers.  "Squirrel Tooth Alice," as she was known, was a local prostitute who became famous when gusty winds pulled several dollars from her stockings.  Local tramps spent the next several hours looking for the dollars with little luck.  Given the high rates of sexual disease and physical abuse, most prostitutes died young, and Alice was no exception.  She suffered an early death due to undisclosed circumstances.
Another appealing factor is Clavin's insistence on solid research.  When unsure about actual events, he advises readers that eyewitnesses reported events as he presents them.  Clavin is also unwilling to whitewash the lives of his characters.  He reminds us that both Wyatt and Bat made plenty of mistakes on their own, especially when he alludes to Wyatt's criminal past.
Ultimately, you will be amazed at the colorful characters and events, both tragic and hilarious, who visited Dodge City in the late 1870s.  While other books and ample films have portrayed the West as it may have been, Clavin's admirable history fleshes out a West that really was.